Product Description
Brembo 16RCS Hydraulic Clutch Master Cylinder
The Brembo RCS Clutch Master Cylinders bring to the table a level of consistent clutch feel and performance that is unsurpassed in the motorcycle racing world. They are also a great addition to pair with a Brembo Brake Master Cylinder to complete the set. Brembo offers many piston size options to accommodate all displacements of motorcycles, from 250cc supermotos to 1300cc+ speed machines and everything in between.
The Brembo RCS Clutch Master Cylinders allow for riders to choose between speed or more precision to best complement their riding style, track/street conditions and other clutch components. The unique design of the RCS system offers the flexibility to change the clutch lever ratio at the turn of a screw. The 20/18mm setting provides an extremely quick and effortless action and the 18/16mm setting allows for better feel and modulation.
Additionally, the Brembo lever features an adjustable thumb screw that can be customized to fit a range of riders' hands. In the event of a crash the outer portion of the lever folds up and away to avoid damage. The patented master cylinder is constructed of forged aluminum and then CNC machined down to remove any excess weight. All of its components, including the piston, seals and pushrod, are the same as those used in MotoGP and WSBK.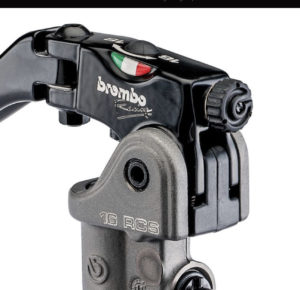 Features:
Forged aluminum body
Hard anodized finish
Adjustable and folding aluminum lever
Large piston
Lever ratio of 18mm and 20mm for 19RCS and 17RCS
Lever ratio of 16mm and 18mm for 16RCS and 14RCS
Weight: ~350 gr
Brake fluid: DOT 4
Mounts to most 7/8″ (22mm) diameter handlebars
Brembo Clutch Reservoir Kit available (sold separately)
Brembo Remote Adjuster available (sold separately)