BMW SB1 Cafe Racer by Josh Withers.
The SB1 Model was specially built for Shane Balkowitsch. Josh Withers was commissioned to build a bike that would match Mr Balkowitsch's 356 Porsche coupe. The silver with white stripe color scheme of the Porsche was to be applied to the SB1 Cafe Racer. With no holds barred, Josh embarked on yet another labor of love. Keeping some key build specifications from a previous build, the project came to life.
The classic Toaster tank with cafe seat and /5 instrumentation …………………….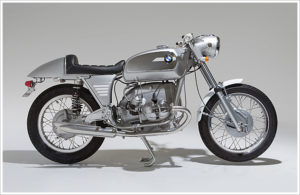 Rebuilt engine built from crank to valve covers and everything in between. Siebenrock piston and cylinder kit was fitted to increase performance to 900CC. Heads were rebuilt with brand new BMW valves.
A Lightened flywheel with an upgraded 5 speed transmission was a must.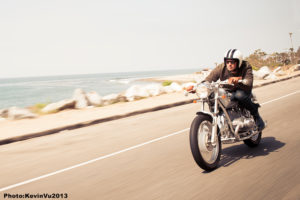 Front forks outfitted with Gold Valve fork emulators.
Wheels are Bridgestone Battleaxe mounted on Akront rims, Buchanan's Stainless steel spokes and the hubs have been powder coated white.
The Silver is the actual Porsche factory silver.
Electronic Ignition, light weight starter, and all new wiring running new lights and custom lighting and turn signals. Lithium Ion Battery tucked under the seat above the rear tire.
The 32mm carbs are from a R80GS
Drag bars with white grips and custom cables made in silver vinyl and Armor Coat.
Rear sets added and the extra holes in the muffler hanger area were filled. Rear set area was reinforced to compensate for the weight of the rider. You can stand on the rear sets and not have to worry about the muffler hanger area flexing.
Stainless exhaust with mufflers from a 1939 BMW were custom fitted and coated with a Jet Hot exhaust coating.
New driveshaft U joints and splines.
Bodywork from BoxerCafe and Upholstery from Autos International.
The SB2 is a new model offered by OSHMO drawing based off the SB1 but with custom OSHMO parts, modified suspension and other OSHMO goodies.