Product Description
Oshmo Billet Battery Tray Airhead R75 R80 R90 R100

Oshmo Billet Battery Tray Airhead R75 R80 R90 R100 fits on top of the transmission deleting the original air box. This a great naked bike item.
By deleting the airbox and using air filter pods, you can open up the space taken by the factory battery mount. Battery cables can now be routed directly to the starter eliminating unsightly cables running along the frame.
The battery tray is cut and finned out of 6061 aluminum billet. The hold down is also machined from billet.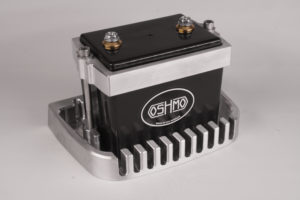 Battery tray is designed to fit a 12 cell AG 1201 Anti Gravity 360 CCA battery. See more info on TAB.
Battery or cables not included. We can supply the both the battery and a cable kit to make your installation quick and easy.